142 Views
Scary Weather in Himachal Pradesh top bridge collapses
Flood in India, Scary weather in North Indian states, State authority Issued advisory stay at home, jammed, Heavy rain, water currents, floods, collapses, Travels & Hills. Travels or Tourism suspended, Stay safe, Flight Cancelled, Road Flooded, Street Inundated, Bridge collapses, road washed away, Rescue operation in Himachal Pradesh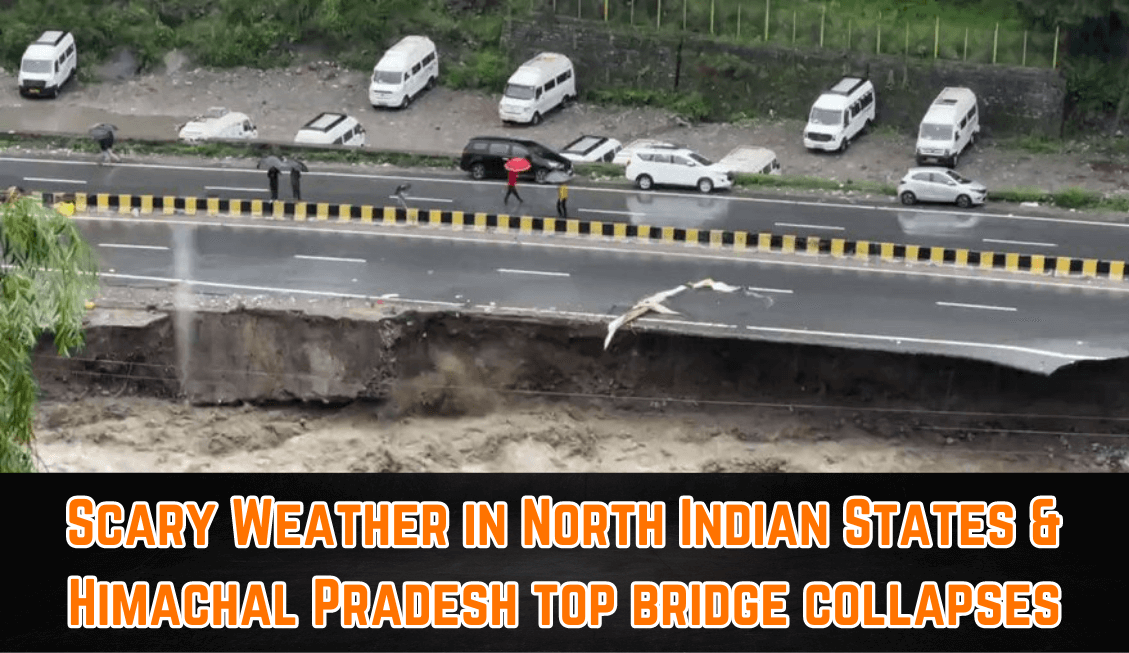 North of Indian States are facing a huge or heavy rain in Himachal Pradesh, Uttarakhand, Delhi & Punjab, and there are most of bridges & cities are heavily flooded and collapse during heavy Rain the Travel Places, Hills & City of Himachal Pradesh. India's North State's Roads are jammed, Heavy rain, high water currents, floods, collapses, Travels & Hills areas are victim of this kind of recent heavy rain of 70 years of history.
The State Government of Himachal Pradesh Issued advisory Stay Away from River, Stay At Home, Avoid Hills Stations, Heavy Rainy Season & Stay safe from top water currents areas. North Indian State Weather Department called the heavy rain would stay longer for next 4 to days, and rescue departments are bringing the peoples into safe places.
Top Scary weather in Manali, Kullu & other Hills areas of Uttarakhand & Himachal Pradesh, where the state government are providing food, public transport, Rescue, help, business insurance, life insurance to their civilians to save their lives despite the flood & physical collapse.
All the Tourism & Travels vehicles are suspended temporarily due to high Water Currents in the whole states river, Bridge, Hill Stations, Mud, Forest Areas. All the Rivers are rapidly breaking Bridges, Roads, Shops and streets with high speed water flow in the nearest areas. There are top Beas river scary wreaks havoc, 6-storey hotel building collapses in Manali, some hotels building in Kullu & Others small shops, Hills food, coffee shop & stays places are rapidly floating in the water.
A lot of houses, bridges, hotels, stays places are flooded aways and Panchvakta temple in Manali That temple is half submerged. State Government are suspended the Temple, prayer and Worship for places in the near of rivers and bridges to take the danger always. There are in Himachal Pradesh, Electric pole damaged, trees uprooted, heavy rainfall wreaks havoc in northern parts of India.