128 Views
India to levy the GST rate up to 50% on Online Gaming, Casino, Dream11, Cryptography games & Horse Racing
Upto 50% GST on Blockchain Gaming & 28% GST on Gaming, Dream11, Lottery, Bet placed, Winning online, Gaming platforms, Casino, Digital Earnings platfroms. Cryptography tax on Decentralized Gaming, High Tax on Dream11, Rummy, MPL, Ludo Empire, Winzo & GAMEE & Online gaming, Casinos, Bet on Cricket & Dream11.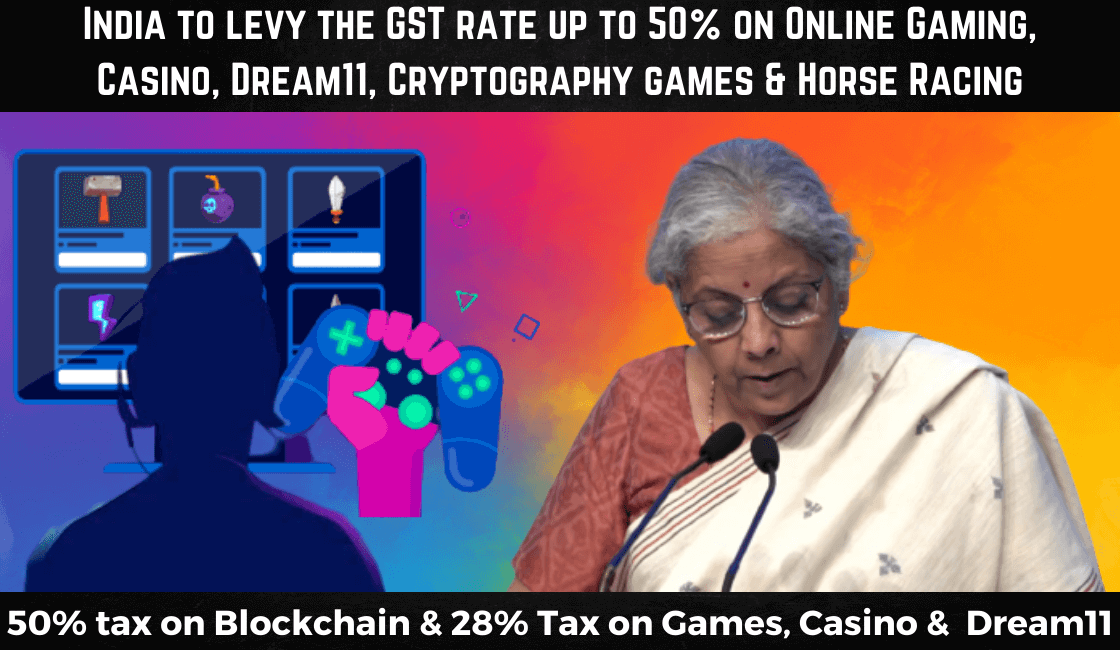 A new announcement about 28% new GST (Goods Service Tax) on Online Gaming, Casino, Bars, Horse Racing & other digital service to Tax high on its revenues. The Indian government calls Online Gaming, Casinos, Horse Racing, and Dream11 are earns the most revenue from online income sources and ways of high earning ways of India. Union Financial Minister decided on the new tax levy on the newly selected categorized industry to Tax with up to 28% or 30% during his 50th GST Council meeting in New Delhi, in bets placed Tax of Horse Racing, Online Gaming, and Lottery. there will be a new tax on other Online investing apart from Stocks, Crypto could me 50% tax on its profitable investors.
Online gaming, Casinos, Bet on Cricket & Dream11, Horse Racing, and Bet on Cryptos are high gross value earns from the last 3 years as per the Internet became the ways of online income on the bets placed & Gaming. There are in Indian Cinema or Movie Theaters, Pepsi, Water Drink, Coca Cola, and Popcorn to cost less by paying an existing high tax on Movie Halls.
Wining, Betting, Paid Online Games & Leverages based income platforms would have to pay high tax on their profit & other low-costable businesses with high best profit are should pay up to 28% tax on its revenues above of $10000 USD. Casino are also a big option for the 28% tax to pay on every lottery, bars and other unregistered gaming businesses or batting placements are going to pay 28% GST on its high income values.
Some Startups, founders, gamers, and gaming industries CEO or founders are criticises 28% GST they entered into politics after seeing the highest tax on Online Gaming, Online betting, and Online Winning platforms. They sharing their voices on Twitter, about decreasing the Tax on online gaming up to -10% to pay the earlier GST of 18% to make their Startups, Gaming development industry great performance.
In the GST Council Meeting, Financial Minister Nirmala Sitharaman confirms the Dream11, Rummy, MPL, Ludo Empire, Winzo & GAMEE users have to pay upto 28% GST on the profit online betting platforms. The Indian Government might take a big decision about Cryptography or blockchain gaming to tax up to 50% at online gaming platforms. The Top industry of Betting, online gaming now has 28% GST on the gamers & Digital Money makers are facing a worse day to pay up to 28% GST on the profit of winning, low costable businesses.
The Blockchain gamers are too fears about playing online games with decentralized money at home or investing into crypto for the adding of cryptography game players. Cash withdrawals in Indian Rupees would be the most expensive to pay tax upto 50% on Cryptography & Blockchain technology games & Businesses.