102 Views
Turkey, Arabs, and Iran coming together against Saudi Arabia, the US, Israel, Palestine, or the IMEC corridor
Saudi Arabia and Israel relation may falls, Israel-Palestine, Turkey-Iran friendship against IMEC corridor, Geopolitics, US Elections, Afghanistan, Turkey and Iran coming together against Saudi, UAE, and Jordan?, Israel's occupation, Israel-Palestine issue, Israeli in Abroad protesting against Israel.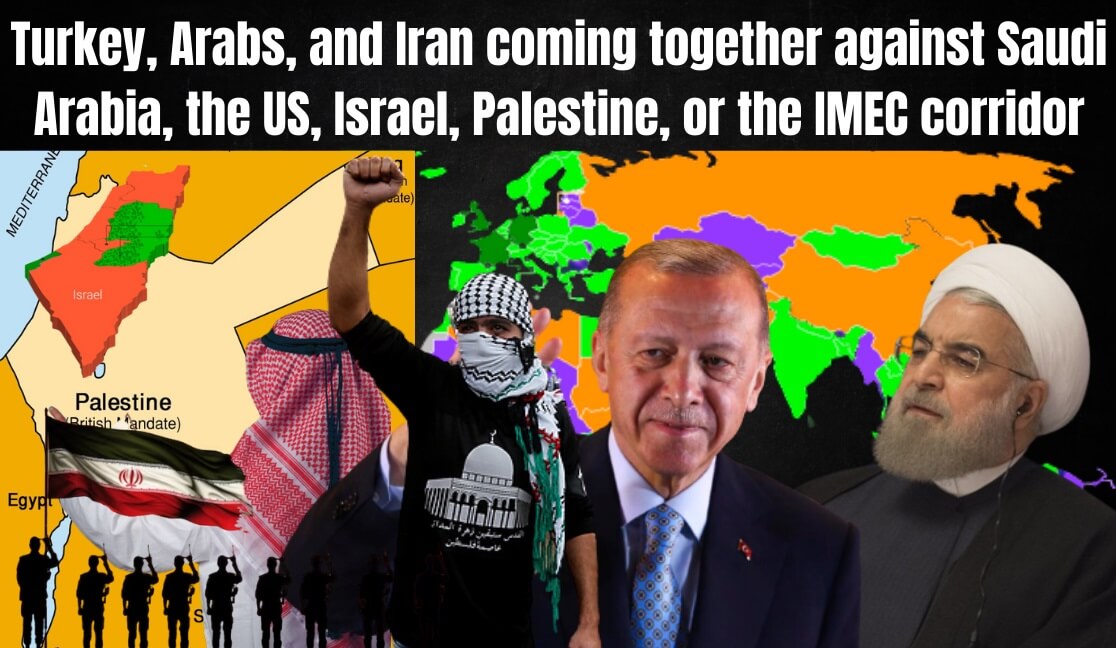 The world's top powerful countries are planning to join Iran, Palestine, and Arabs against the US, Israel, and Saudi Arabia. Turkey and Russia's friendship may work here against the US, Israel, and Ukraine. In the recent issues over the IMEC corridor from India to Europe, there are some new tensions between US, Europe, Israel, Saudi Arabia, India, and UAE. Palestinians are welcoming the Iranian, Syrian, Iraqi, Lebanon, and Gaza Strips peoples more than Saudis, Arabs, and US-Israel allies Muslim countries. Palestine is thought that the Saudi Arabs, Jordan, UAE, and Israel are making deep ties against Palestine and Jerusalem. Turkey-Israel also has the worst relationship being the situation in Cyprus, Kurdish Fighters, and Middle East Corridor developments, because Turkish thoughts Israel making proxy things with Kurdish and Cyprus fighters against Turkey.
Why are Turkey and Iran coming together against Saudi, UAE, and Jordan?
Turkey has become a new enemy of the IMEC corridor of India to Europe, which connects India, UAE, Saudi Arabia, Jordan, Israel, Cyprus, and Europe from the Mediterranean Sea. IMEC officially bypassing Turkey and making new relationships of IMEC's countries with Cyprus and the Mediterranean Sea may create new headaches for Turkey, Palestine, Lebanon, and Iran. In the future, Turkey, Iran, China, Palestine, Pakistan, and Russia may protest against the IMEC corridor, and if Saudi Arabia's demand for US troops in Saudi for Safety is not complete then may Saudi-Israel relations become controversial. If the Palestine issue is raised again then it will affect all the relationships in the Middle East including, US, Israel, UAE and Saudi Arabia. Turkey and Iran will benefit the most from this, and Israel will develop new relationships with the Palestinian people, the IMEC corridor, the US, UAE and Saudi Arabia.
The Israel-Palestine issue will protest in the Islamic world and Arabs will demand Peace with Israel's occupation.
If this IMEC corridor, Israel–Saudi, and US relations fall, Palestinians will begin new worldwide protests, and Israel will lose the newly dominated areas and occupation. in the recent issues according to Israeli media, most of Israeli Jewish in Abroad are demanding peace in their country over Palestine matters. and this is the final chance for Netanyahu the make united Israel because many protest happened in Israel to stop war and make ties with arabs. If Israel fails to keep ties with Saudi, Jordan and UAE may, it will be a biggest loss of israel. Saudi Arabia Demand for US Troops to be deployed in the Country may be a trap for Saudi because US will never deploy any troops after during the war in Ukraine–Syria and Afghanistan.