113 Views
Top Governments & top companies are under the control of BlackRock & Vanguard, Saudi, China, the US, and the EU invested in BlackRock
Islamic Banks investing in BlackRock, Why BlackRock is not a bank or not work under the Banking Services?, Middle Eastern countries are hiring BlackRock for the largest funding and global payment solutions, Central Banks, Financial services, goverments are lending with BlackRock to develop their countries. Aramco and Arabs are investing in BlackRock, Lending, finance, AUMs, Saudi, China, the US, and the EU.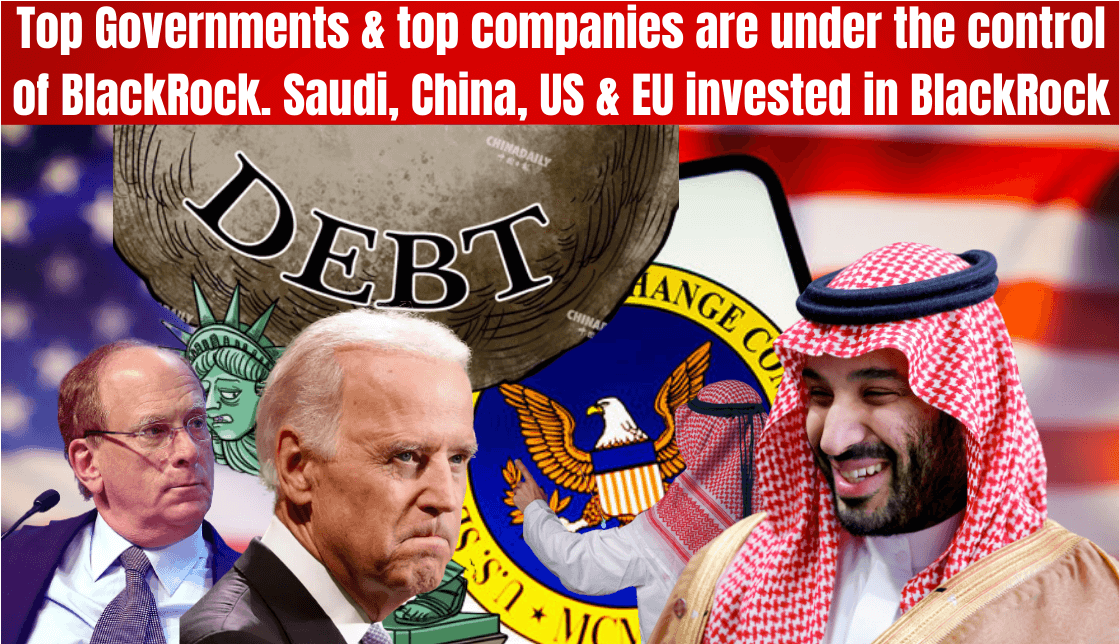 Every bank in the world wants to become the top bank in the world but BlackRock, Fidelity, and Vanguard are the world's top Assets management companies that hold almost $20 Trillion Worth of Market cap with their own circulation of $100 Billion daily Stocks value, trade, and payment transctions. In the US and world, top banks including Bank Of China, Bank Of America, and JP Morgan are also a part of BlackRock payments facilities. As the thought, top banks have invested in top AUMs to keep safe and secure the daily banking transactions with BlackRock, Fidelity, and Vanguard. Top companies like Apple, Aramco, Amazon, Tesla, Alphabet, Walmart, Alibaba, and other individual investors have their largest funds and Investment, Advisory, and Risk management are under BlackRock and other AUMs. BlackRock hires top companies which going to make new future growth, then makes ties with companies and governments to buy their stacks and make their assets under management.
Middle Eastern countries are hiring BlackRock for the largest funding and global payment solutions.
Whenever we think, about how banks work under the BlackRock and Assets Under Management companies, there would be better ways to adopt a new facility with investing, risk management, developments, and top countries to hire top assets managers like BlackRock to complete the largest funds up to trillions of USD in infrastructure, developments, and management processing of countries projects to make new contracts with BlackRock than a Bank or Financial Services. Saudi Arabia, UAE, and Middle Eastern countries are hiring BlackRock for their largest developments, payment processing, institutional payments, and investing strategy to keep away the rules of banking and SEC or any securities or commissions. For example, Saudi Arabia is building a new NEOM project in their cities with the best travel, and other developments. BlackRock owns almost the financial sector, Banks, Central Bank rules, Risk Management, and regulations of new generation development. Top banks can be private and top market cap but anyone can buy Banks with their own funds but there are no powers or rich people to buy BlackRock. In the recent survey, top emir of the Middle East or China and US has invested in BlackRock to keep away the Tax and save the future of investors or institutions.
Why BlackRock is not a bank or not work under the Banking Services?
Top countries are getting lending, risk management, financial, ETFs, All banks under control, risk-free management with low-interest rates for their investors, institutions, and top companies who have tied up with BlackRock. The Assets Management Companies are directly work with Government and Business owners to keep safe their funds from stockholders, traders, or retail payment services. BlackRock and the world's top Assets Under Management companies always work under the law, companies, Central banks, and governments to fund or give the best lending services. If banks can offer the funds or lending services up to Billions of USD then BlackRock can offer their services up to Trillions of USD to make ties with governments and central banks and offer lending services without any permissions. Many of Islamic banks are working under BlackRock to secure the future of institutions.