69 Views
Saudi Arabia becoming the world's 3rd largest economy by 2030 : Middle East Economy
Saudi Arabia becoming largest Economy country in 2030, Middle East Economy, GCC becoming richest group of the Middle East, World's largest economy corridor in Saudi, Saudi Arabia investing in Europe and America, Economy of Saudi Arabia, Vision 2030, Saudi Arabia buying top companies in 2025.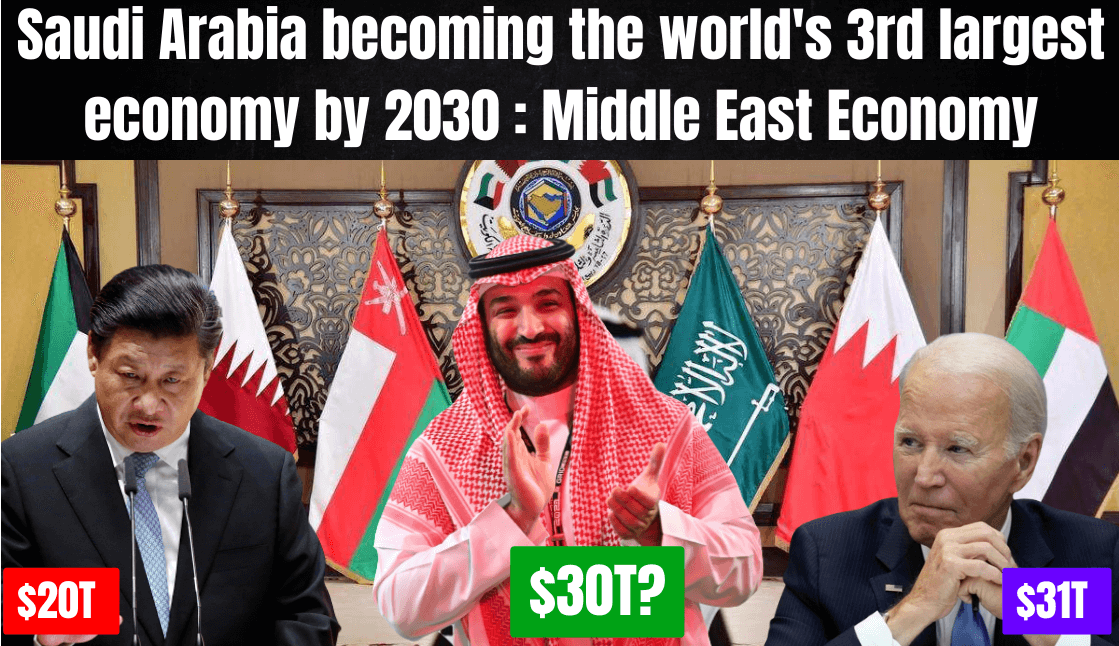 There are various types of wars, economic, defense, and diplomatic crises all over the world but till now Saudi Arabia has not directly participated in any war like Iran, China, the US, Europe, and Russia have. Vision of 2030: Under 2030, Saudi Arabia plans to invest Trillions of USD. if Saudi Arabia invests in big sectors like Sports, Economics, Finance, Development, Technology, Forex, and partnerships, then Saudi Arabia will become the financial leader of the world. Because Saudi Arabia is investing and partnering in WWE, Fifa, Cricket, Economic Corridor, partnership, Energy, agriculture, technology, Healthcare, Lifestyle, Pharma, Biotech, and Real Estate are the most important investments in the world.
Why is Saudi Arabia investing in Europe, America, Asia, and Africa, Is GCC (Gulf Cooperation Council) becoming the second richest group of the Middle East?
By the way, even the American government does not contribute to such huge expenses because it is dependent on the taxes on petroleum and gas. Saudi Arabia is making investments in various sectors like UAE, Singapore, China, Europe, and America in its country so that companies, laborers, and asset managers can benefit from geopolitics, diplomacy, and corridors. Saudi Arabia is investing most of its money in Europe, America, South America, Asia, and Africa in order to make its sectors a global economic zone and manage international transportation between Europe, Asia, and Africa like Singapore and Chicago. Now Saudi and other Middle Eastern countries have realized that they cannot remain so independent on oil and natural gas and they want that whatever trillions of USD they have, they can invest in the development of their country. so, that in the future Saudi Arabia's financial control will continue over the world. Now Saudi Arabia is investing in many things because due to Israel and Gaza, Iran and Qatar are also coming closer to Saudi. If UAE, Saudi Arabia, Qatar, and Iran together establish investment ties, GCC (Gulf Cooperation Council) can become the second most powerful group in the world almost like the European Union. Saudi Arabia not only has oil and petroleum but its map can also be used to create global corridors and supply chains. Because Saudi has a lot of ground opportunities to connect Asia, Europe, and Africa.