140 Views
Russia sends weapons and military equipment to the Syrian Arab Army in defense of Syria from Israel : Israel-Palestine Conflict
Russian Military in Syria, Syrian Arab Army in defense of Syria, S400 and S300 Defense System, self-propelled Artillery, Israel-Palestine Conflict, Hezbollah join front war, Israel-Syria border, Russia-Ukraine war, Lebanon Army, MiG-29M/M2 fighter jets in Israel, Iran, Russia, Syria, Iraq and Middle East turning in new War with Israel. Biggest Economy, Business and Corridor issues in Middle East.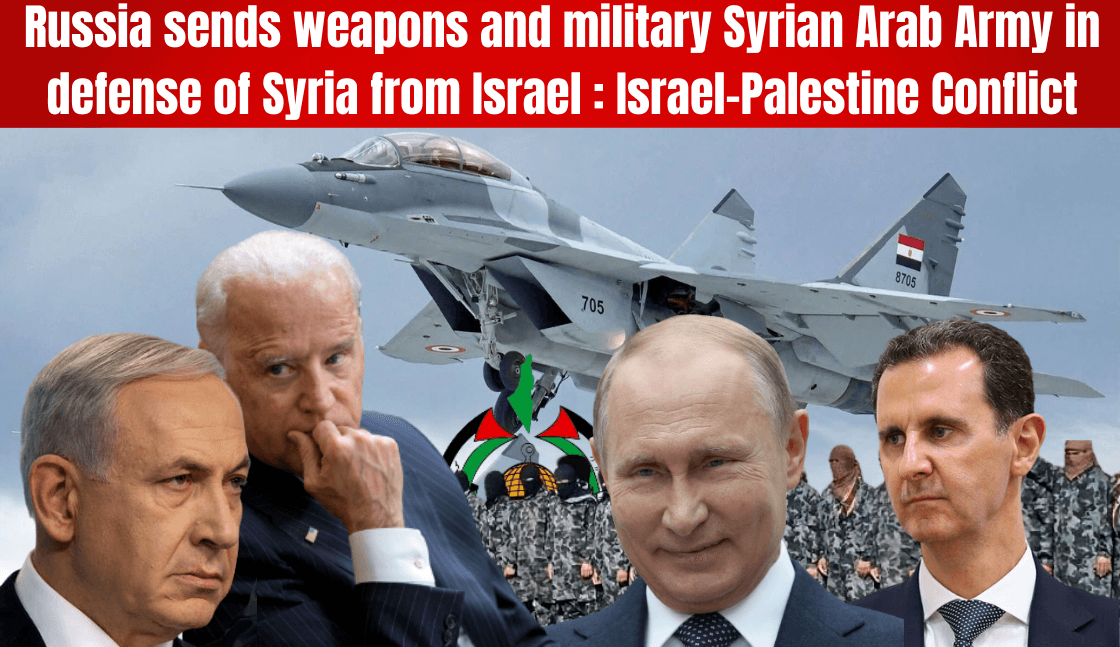 Due to the Israel–Gaza conflict, Russia is sending its weapons, military equipment, and radar to Syria to save Bashar Al-Assad and the people of Syria because only the Syria War can show how important Russia is to Syria. Recent reports say that Russia is still fighting with the Syrian Arab Army to counter any Israeli attack on Syria and Russia has been helping Syria for the last few years. The President of Russia said that Israel's actions in Gaza could lead to a long war because America and Europe are ready to do anything to help Israel. It is possible just as America is sending huge weapons to Israel in the Mediterranean Sea, so, just as Russia and Iran may send huge weapons to Syria, Lebanon, Iraq, and the like.
Why did Russia transfer weapons and military equipment to Syria?
Russia still supports an independent Palestine and wants to do an intermediate between israel and Hamas to solve the 2 states solutions. Russia will not completely ignore the conflict going on between Israel-Palestine and Hamas because Russia can play a very big role in Syria and Lebanon for Russia, or Russia for Hezbollah and Hamas. Hamas completely trusts Russia to end this conflict but Israel does not trust Russia because of the Israel–Iran conflict between Russia–Israel America and Hamas. Russia has no enmity with Israel but geopolitically they are common enemies, Bashar Al Assad's reign in Syria is very important for Iran, China, Russia, and BRICS. Therefore, there cannot be a bigger achievement than this to end American interest. The second thing is that the Russia–Ukraine war has not ended yet and because of it, many countries have their opinion Europe and America are completely in support of Israel, while China and Russia are also in support of Palestine. Due to this, the survival of Bashar al-Assad is Russia's biggest achievement and Russia would never want Israel to attack Syria.
What Weapons will Russia transfer to Syria?
By the way, Russia will send the same weapons that it had sent in 2011 due to the first civil war in Syria. Which top Weapons included MiG-29M/M2 fighter jets, Su-24M/MP attack aircraft, T-72 and T-90 tanks Armored vehicles, 152mm 2S3M Akatsiya self-propelled howitzers Artillery, S-300 PM and S-400 Air Defense System, and they can be deployed in Idbil and on the Israel-Syria border. Yes or no, if Israel continues ground operations and if Iran and Hezbollah join an open front war, then it would be the biggest mistake for Israel to go against Hamas. However, no one wants the Israel–Hamas conflict to turn into a big world war, but if this conflict occurs in the Middle East, it will be the biggest conflict in which the entire world will be involved and will face economic crises and losses.