159 Views
Qatar & Singapore became top ZERO unemployment rate in world with high Gross Per capita : Global Unemployment Index 2023
Qatar world's top richest countries with lowesr unemployment rates in the world. Singapore most lowest employment rate in Startups, Electronics Manufacturings & Cargo. EU countries high labours from ukraine, Africa & Asia. top unemployment rate, Per Capita Gross Income with best GDP of world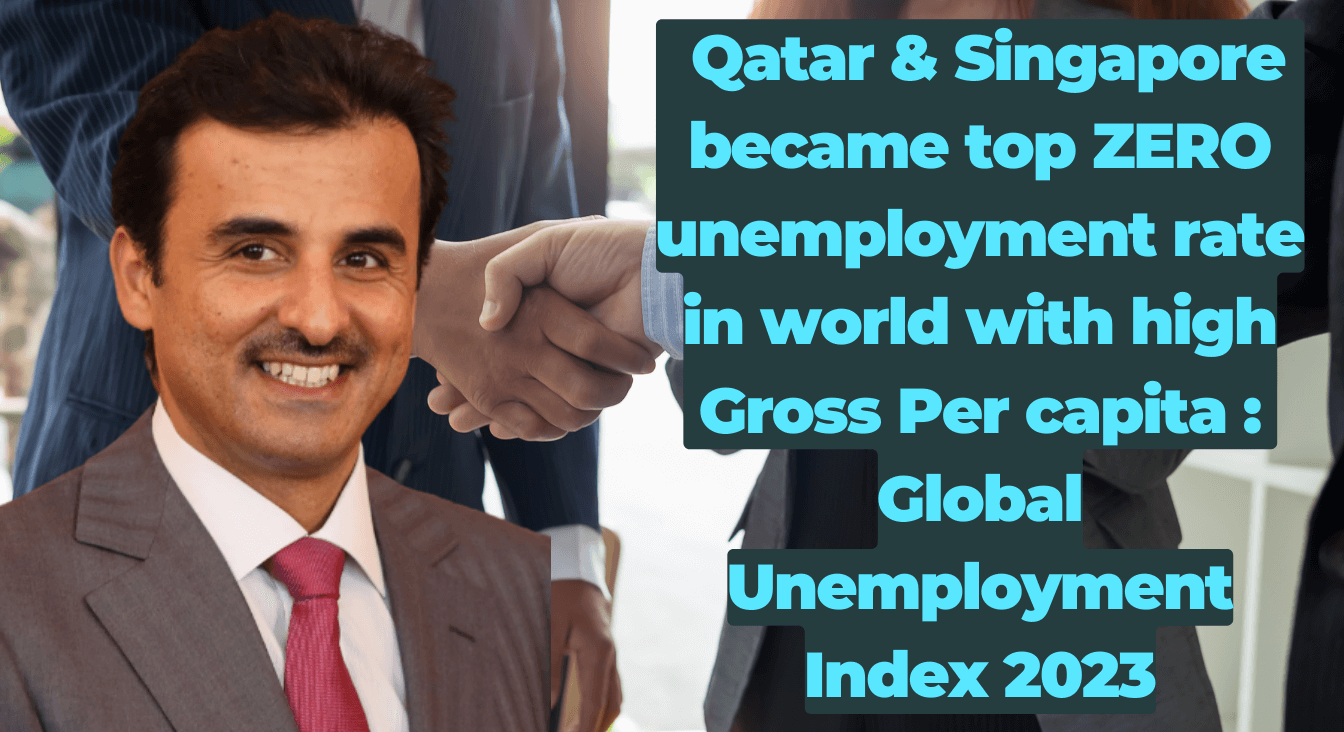 World's top countries including China, Russia, United States, Nigeria, South Africa, India, Pakistan, South Africa, Turkey, Finland, Sweden, Saudi Arabia, Mexico, United Kingdom, Canada & France has top or stable unemployment rate with best GDP or Best Per Capita Income sources of top investors, businessmen & Trades in the world.
The world's top largest economic countries like United States, China & EU are have a lot of potential about thier global investment, rank in GDP, top rank in export or Imports, but there are still have many problems with high Unemployment rate of countries.
The Nigerian, Asian & African are still happy in each other countries like United States, Europe and Middle east to earn with best satisfactions on works, employments opprotunities in Dubai, Qatar, Saudi Arabia & Kuwait. European countries are have a big refusee for low labour costs from Ukraine to work in cheap rate of employment costs in the other EU countries because of during Russia & Ukraine Conflicts.
Qatar has world's first lowest unemployment rate in the country with highest $500,000 per capita income of foreign labour, High exports of Oil & Petroleum gas to global supply chain, its exports are more high in their country.
The 98% Qatari official peoples are enjoys their life at home, tourism & lowest working hours because of highest foreign jobs are available to get best opprotunities in the whole country with instant jobs eligiblity for everyone in Qatar's top companies, organizations & partnerships.
Singapore are too in this list of top lowest unemployment in the world with low populations, best earning sources for electronics manufacturing, financial services, tourism and became world's busiest cargo seaport. The top foreign labours are earns from Electronics Manufacturing Companies, new Startups in Singapore, Cargo Seaport to join each other countries helper earning per hours of works.