173 Views
France is Falling, Italian PM Giorgia Meloni telling the truth About France Riots during of migrant crisis in whole Europe
Europe Refugees crisis, Italy Blames France, Afriacan Wealth In France, Energy Concessions Gaddafi, EU cuntries immigrant, Sweden Riots, Finland Riot, France Riots, France is falling, riots in France.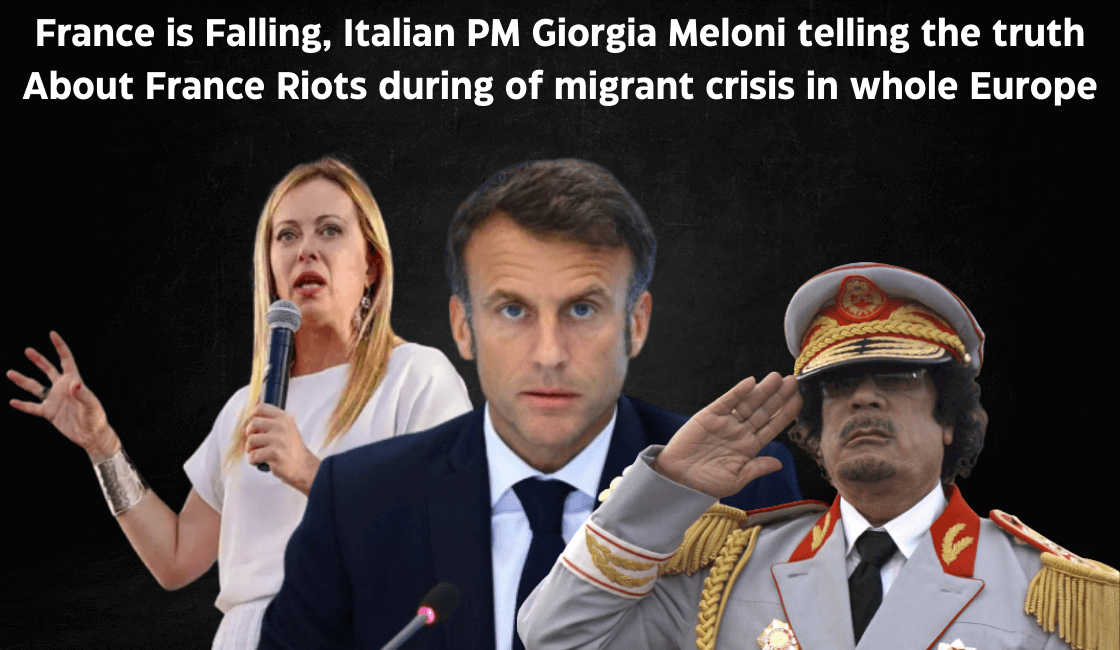 It's been 2 week since the riots in France begins about a accidental death of a 17 years of teenager who drove their car in city without following rules as the Police says & Rioters are demands why they killed the African teenager in france. The Europe's top politics parties are blames each other countries Who let those come inside Europe and Emmanuel Macron now faces a big political & country issues with those rioter who blames the Police.
The Rioter are attacking on all the country's cities & top business areas or looting the innocents (As the Police says) but Rioters are said they are protesting peacefully in France because Police and Macron Government's police are attacking on those. Despite the France Riots, Italian PM Giorgia Meloni are telling the truth about the French neocolonialism in Africa and how France causing the migrant crisis in Europe because of stealing the African wealth.
The Italian PM blames the France Current government of Emmanuel Macron to tell the truth about France Government who stealing African Gold, African Wealth from Libya, Algeria & other Central African Countries. She says, Emmanuel Macron Described us, Disgusting, cynics and irresponsible in Europe to give as wrong data about the Africa and its france-African connections.
She Told What Macron said us, We Are irresponsible and increased the all Refugees into Europe without the backed truth of its works in African destinations. The Italian PM directly blame the France Macron about a biggest Refugees or Migrants crisis in Europe top countries like Sweden, Italy, Germany, Finland and other EU countries.
Italy and other countries of EU were Energy Concessions with Gaddafi and France left us facing chaos of illegal immigrants issues we are facing now. France many time opened the Borders for the Refugees to increase the global tensions with Africa and Europe. France Government continuously exploit Africa by Printing money from the wealth of African countries.