Russia to accept Digital Ruble (RUB) coin instead of Bitcoin & Ethereum or crypto in 2024
Russian investing in CBDC projects, NATO & USA invested Billions of USD in Crypto and Bitcoin, USA & Ukraine military aid, NATO Military Aid to Ukraine. Russia investing on Digital Ruble to make payment gateways. Global currency and International payment system in 2025. Russia sanctioned by the US, Europe & massive financial restrictions. Russia to spend large money on development, technology, exporting, Food, Investments, and Oil & Gas.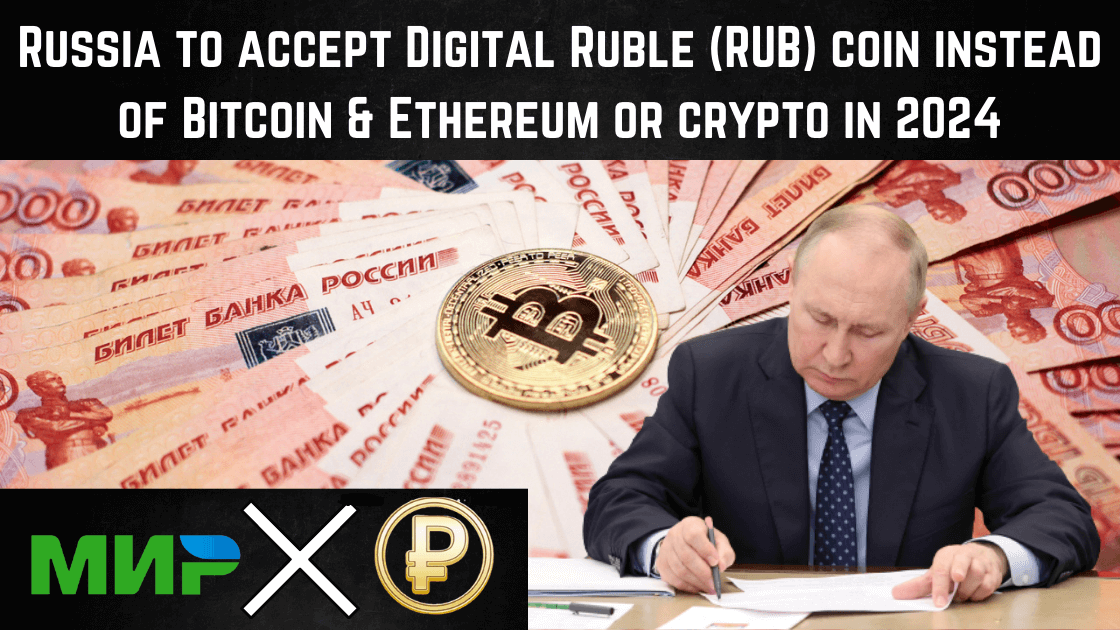 Russian President Vladimir Putin has a new strategy for digital & virtual currencies acceptance to their economy and forex for the global payment at Export of Gas & Oil. Putin signed a new law that launches a  Russian CBDC (Centralized Bank Digital Currency) in the year 2024 to empower the domestic and international economy-related management and recover the Ruble (RUB) of Russia & increase the global demand for Oil & Gas Supply. Before this big announcement, all over the world most news channels & media made huge coverage of Russia's next Bitcoin thoughts to get inward remittance from any country to sell their oil & gas. 
Russian authority now focusing on the behind of new law describes a legal framework for a central bank digital token, economic movements, and international transactions. Russian central bank will empower all of its ecosystem, technology, gateways, payments, and token liquidity-related option for the public and officials. Russian president passes into a law to make own digital currency based on centralized banking technology into the ruble bill of the Federal Assembly to share all of its options for investing, global supply and continuously exporting foods, oils, and machinery to the world.
In Africa, Asia and South America's top Russian favor or friendly countries are looking to import Gas, Oil, and food at cheap or discounted prices. Officially, Russia offering the BRICS and other countries to increase their leadership and to ignore the future poverty into top membership with become the best countries to import. Russian banks, the Russian people's GDP & the Russian economy or Russian Ruble are rapidly fell from the top of its value due to the Ukraine-Russian war in Europe. The Digital Ruble of Russia, are will be used for the international payments settlements along with other new methods ot make new amendments to the Russian Civil Code.
Russia's Ruble Digital CBDC project in the Banks of Russia has been working since 2020, Still in Europe Russia–Ukraine is the biggest tension for all EU & Asian countries to explore their own payments system to ignore the USD & top other International currencies to secure their own currency in the global market. In World, Countries, banks, and financial services are looking for CBDC projects of all the new digital own currency bills and are working hard to stabilize the global economy with it.
Russia is heavily sanctioned by the US, Europe, and other NATO countries, Digital Ruble might make a new opportunity to grow the business due to global sanctions. Russia facing massive financial restrictions from the West, Russia is also a top powerful country in development, technology, exporting, Food, Investments, and Oil & Gas production.
Bitcoin was a beautiful and technology-based opportunity for all countries to begin with new ideas of Business & Finance. Russian government going to accept it in the near future but because of the Russia-Ukraine war its been an important step for Putin to take advantage of global security and safe payments. Bitcoin and Ethereum are decentralized and Americans and NATO countries are already invested billions of USD & EUR to make a hard future for Russia.