$BONK, $KING & $SHIBA are garbage token on Ethereum & Solana in 2024, BRC20 Going to be next ETH?
Top Ethereum & Solana projects are migrating into Bitcoin before halving. Solana, Ethereum, AVAX, Polygon Projects are waiting for next pump. Ordinals NFTs & BRC20 reach all time high inscriptions, tokens for massive profit in Bitcoin Halving. Bitcoin will be at below of $50k, because Ordinals & BRC20. New NFT & BRC20 Projects on Bitcoin in 2024. Ethereum holders are making everyday new token to earn massive income through their holding than supporting Shiba, Floki and etc.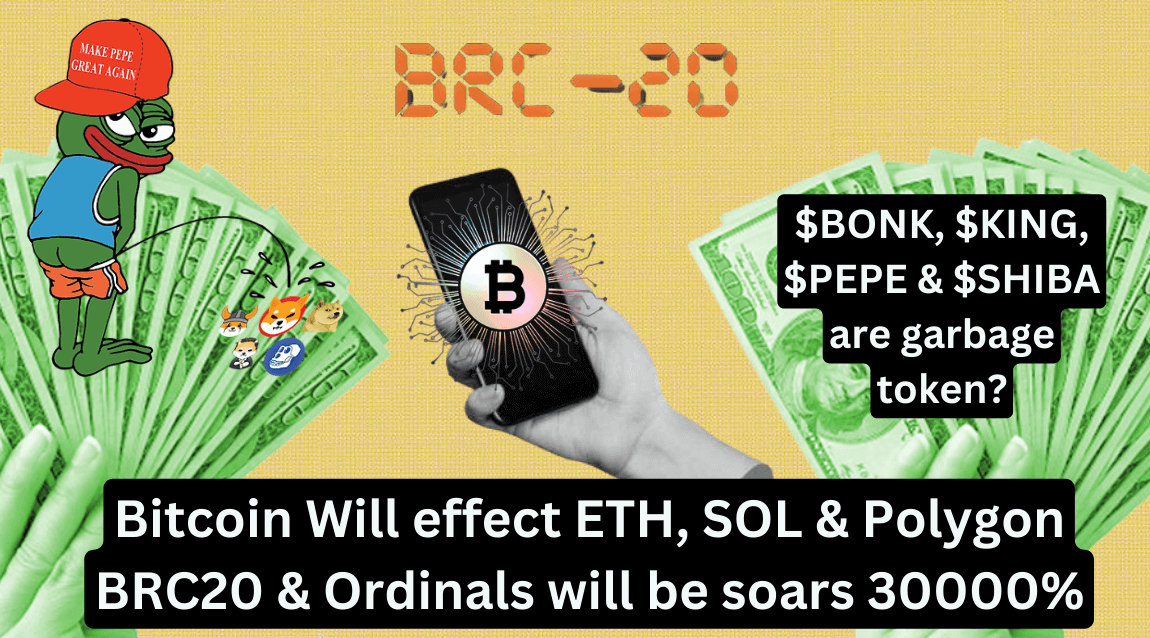 The top community of Solana & Ethereum based tokens like $SHIB, newly solana token $KING & $BONK are has lost their global support for the top memecoins and DeFi because top Ethereum holders are rewarding or Sending ETH to each other wallet or Creates new tokens everyday than supporting old one. The Shiba inu finally going to be delisted if they will not performs like before had done.
The Top listed tokens on the global exchanges are lost their holders support amid the BRC20, PEPE & AiDoge series of new theme of new tokens. The BRC20 token going to defeated the gloabal ethereum chains of whole Memecoins & DeFi tokens.
The Polygon developers are still looking for any other Cross Chain to grow their project with strong network than Dead NFTs, Dead Network or Dead Market Volume.
The top community of Ethereum's are too lost their Volume of Trades, Market Capitalization, Holders, Projects forwarding confusions. The old creators of Ethereum, Solana, Polygon and AVAX are ready for their next journey with Ordinals & BRC20 to accept the new trends of trading and too accept the real decentralized chain of Bitcoin.
Ordinals & BRC20 are next best options for the Bitcoin Halving to grow the Bitcoin chain back to the moon with Bitcoin's already moon prices from year 2011. The Next Halving of Bitcoin has confirmed the pump Ordinals NFTs & BRC20 tokens.
The Shiba, King, SolanaNFTs, EthereumNFTs, AVAX & other NFT collection or their NFT tokens are waiting for big skyrocket back after the Bitcoin Halving, But Unfortunately the place of top projects are now migrating or making version on #BRC20 & Ordianls. The Ordinals are too affected the Bitcoin's price during the new version of Bitcoin with new trends, the all Bitcoin holders are trading into new Bitcoin Friendly tokens than focusing on each others projects.
The top BRC20 Projects of PEPE, $OXBT, $PSYOP, $ORDI, $VMPX & $MEE are made a lot of potential for the inscriptions holder on Bitcoin blocks. all the Crypto exchanges are looking to add BRC20 & Oridinals to stable their value of assets then not supporting old one projects of ETH & SOL.
Sponsorship – Join This New Network of NFTs, DeFi, Ai, BRC20 & Ordinals of new cross chain community firstly on Solana Blockchain, TaporyClub.