108 Views
Canada and India suspended Visa for nationals amid the Khalistan row, Job, Employment and Students face new issues?, opportunities for Pakistan?, US & EU in Khalistan matters
Canada and India suspended Visa for nationals, Khalistan row, Job, Employment and Students face new issues, opportunities for Pakistan?, US & EU in Khalistan matters, What Steps India take to Save the future of Indians, Will Pakistan & Punjab get a bright future in Canada?,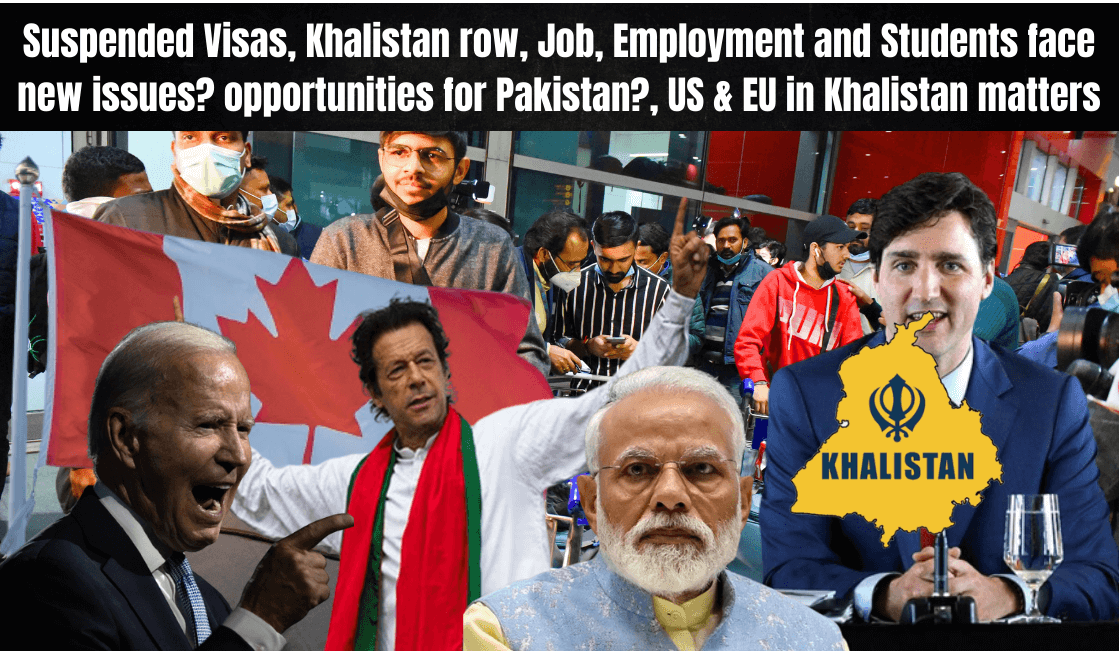 The Canada–India relations are going more complicated and trapped in a new row of Khalistani issues and Canadian or Indian citizens. Most of the Indian students, businessmen, export/imports and employments will be go in trouble amid this recent peak of political conflicts between Khalistan, India, and Canada. This is most biggest problem for the new generation of India, because if Indian workers, jobs, and visas are denied by Canadian government then it would be a bright future for the Punjabi Sikh and Pakistanis to get jobs in Canada instead of India. The Indian government officially suspended the visa for Canada and Canada also suspended all investments, trades and import/export to retaliate against the Indian Suspension of Visa. In the future, India also take a view on the side of Indians who living in Canada to lift them up for their homecoming.
What Steps India take to Save the future of Indians in Canada, is the next option the USA or the UK? Will Pakistan & Punjab get a bright future in Canada?
In the future, if the situation does not control the sourness in between Canada, then Indians can use the alternative options of the USA, Mexico, UK, and Australia to keep focus on their Study, jobs, and employment. It may affect the US-India relationships, if Canada cancels all trade and all other kind of relationship, then US may take a new step against India because of immigrant issues. The US won't say anything to the people present there but may make new policies for Visa, Travel, and identification to secure the country from Immigrants if Indians do not want to go back to their Homelands. Pakistanis are almost ready to get jobs in Canada because of an Indian perspective Khalistani may support Pakistan. It's yet not confirmed, that Canada–India political relations are in confusion, that's a question of why Trudeau supports Khalistan as being the world's top human rights country and how that will affect India and the Global relations of EU and America.