110 Views
Can Taiwan & Ukraine hope, the US will completely fight for them? US-Japan-South Korea may support Taiwan
Can Taiwan and Ukrainian trust the US and NATO?, Can Taiwan hope for the US to save their country from the Chinese Invasion? Can Japan, South Korea and India may support Taiwan to counter China? Ukrainian soldiers vs Taiwan soldiers during America Aid or supports.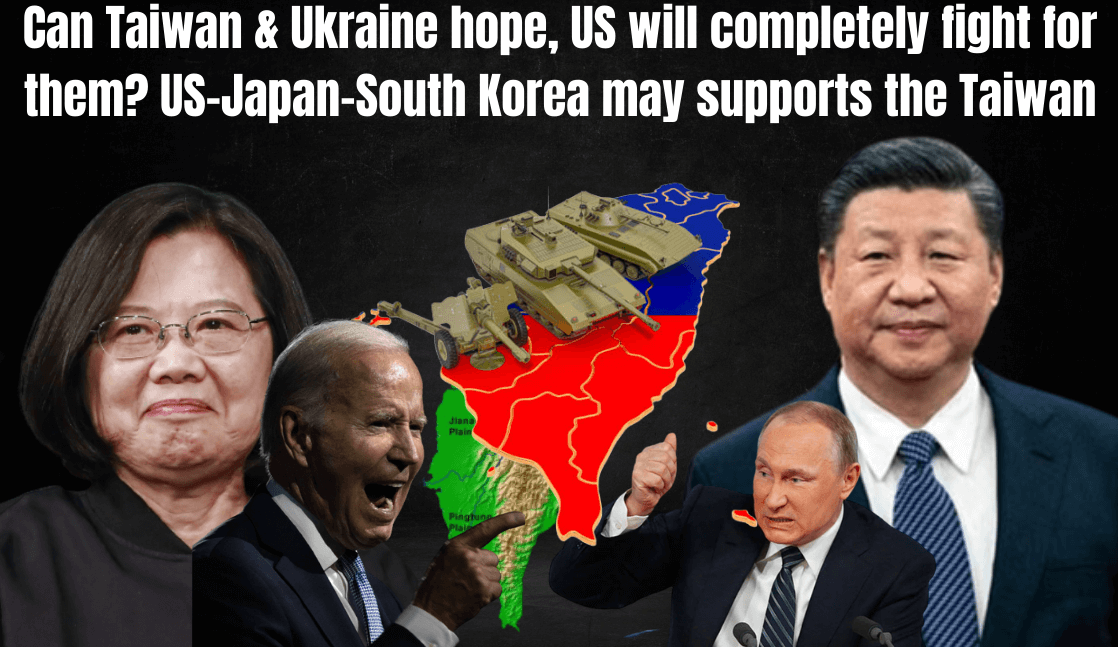 There is a lot of question with various thoughts about the War in Asia and Europe. Most of people or civilians in the country are making more friendly relationships, defense, and economic deals with the United States of America. But they are thinking about multiple choices and dependencies US aid or support of defense row in a new war zone like early which had in Syria, Iraq, Afghanistan, and Vietnam. Most of Taiwanese, Ukrainians, and Syrians are won't explain how the US relationship with their country will affect or increase aid for the economy and civil wars. The Ukrainian Zeleskyy government believes the US, and NATO are most top supporters of Ukrainians but Ukrainian soldiers are thinking is America really helping us? – this is the biggest question for Ukrainians and Soldiers of Ukraine.
Can Taiwan and Ukrainian trust the US and NATO?
Half of the Ukrainians thought that Zeleskyy is our fighter hero and top leader in history for fighting the largest, most powerful country in Europe. Some Ukrainian soldiers think we fight until die but can we trust Western countries or US after the winning the war with Russia? There are a lot of countries that have a debt overload on their country after US support and Aids. Taiwan & Ukraine are both in same ways as Russia or China because the US is aiding both countries in Asia and Europe. if Taiwan retaliates back to China from their territory, then it will not be easy to bring a long year of fight between China and Taiwan. China is the most powerful country in the world in rank with second number in economy, defense, and GDP.
Can Taiwan hope for the US to save their country from the Chinese Invasion? Japan, South Korea and India may support Taiwan.
Mostly US maintain relation in the Asia Pacific with Diplomatic, Political, and Defense Aid to small countries for be ready for fight themselves but if the Top countries like China, and Russia are want to war then the US may provide Defense cooperation to those countries. US to help the arms aid for the friendly countries to defeat the invasions to save American strategy of Democracy, investments, and foreign policy. By the way, the US and India have the biggest option to stretch the war against China and Taiwan to make more weakness in China by aiding Taiwan like Ukraine. There are many issues of tension between China and the US because China is the world's or America's top business and economic partner on a large scale. China's fight with US-Taiwan may bear new inflation, stock, shares of world and recession in Asia, Europe and America. Because of saving and stabilizing the Stocks of Asian and American Japan, South Korea, India, and the US may cooperate with Taiwan to save the country from Chinese invasion. if the US backs Taiwan, then it will not be easy for China to win war with Taiwan in days, because Japan, South Korea, and India will be the next mission of China. Taiwan can trap China, but the economic loss of the world's top poor or richest may be affected.