120 Views
Are Xi Jinping and Putin becoming new Friends by skipping G20 In India?
G20Summit, Putin vs Ukraine, Is it going on the way of BRICS Vs G20?, g20 summit 2023, g20 countries, g20 countries list, Why Xi Jinping can't attend G20 in India?, Why Xi Jinping and Putin should Follow and not be able to follow the G20?. ISRO in G20.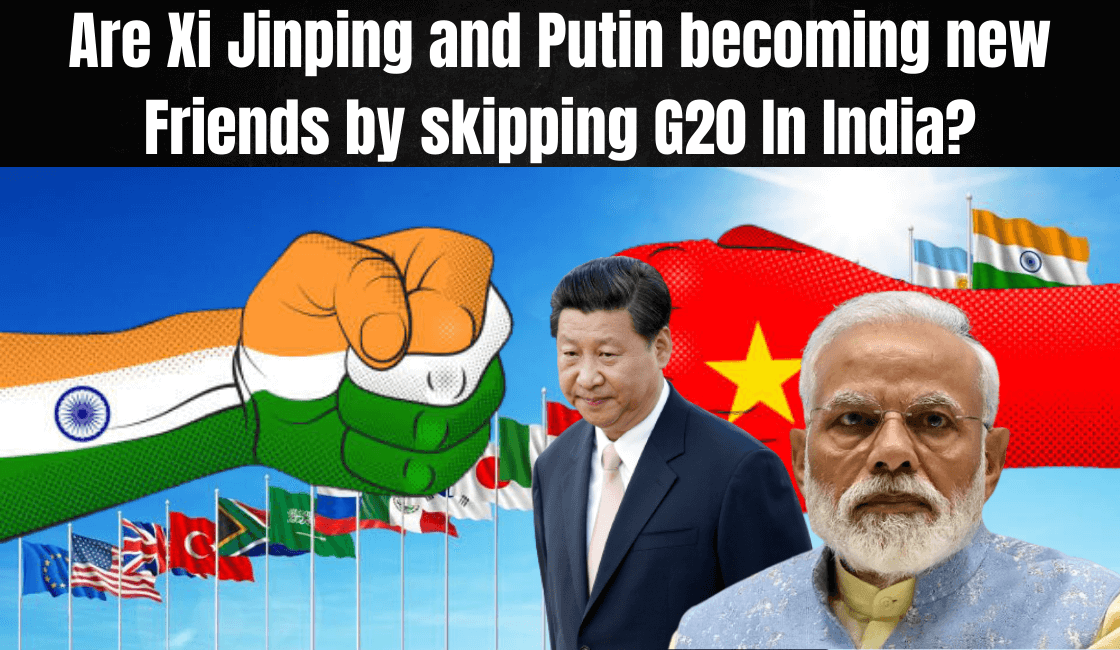 Due to the long war with Ukraine-Russia, Russia's Putin canceled their First G20 journey to New Delhi and that was a phone call confirmation. China also canceled their G20 Summit in India, After Putin's cancellations. China, the USA, India, UK, France, and other top countries are the most powerful countries in the G20 Summit. to discuss the new relationships, trades, business, currencies, Developments, investments, Climate Changes, Visas, Immigration, and various kind of issues, to make ties with top countries. United States President (Joe Biden) and other country's presidents and leaders are keeping eyes on India's first G20 Summit to join the global powerful countries meetings.
Is it going on the way of BRICS Vs G20?
China has top membership in BRICS countries China and India handshakes and promises to develop the group of BRICS countries with their own currencies, Investments, Defense, trades, and digital currencies to make a new powerful group of India, Russia, China, and South Africa. China is developing defense equipment near the LAC & Arunachal Pradesh where China is thinking about fighting with India in the future Also China has released its new map to add Arunachal Pradesh and Ladakh in their areas.
Why Xi Jinping can't attend G20 in India?
There is also a reason, At the G20 summit India, the USA, Indonesia, Japan, and South Korea are minding what China is doing in the South China Sea and Near all the borders and Seas of Japan, Taiwan, South Korea, and indonesia. They don't talk about Borders, Seas, and Crissis over South China amid Chinese Ships in and seas areas but may also talk about Business. China Preparing for war with Taiwan, and South Korea, Japan, and Indonesia is one of the top supporters of Taiwan who support Taiwan as an independent country. India is world's one of the top neutral countries to follow the friendship with all the countries of the world, India has friendships with all the countries of the world like Russia, NATO, and Taiwan who are ready to develop the country stronger together. There are main focuses of G20 countries on the Indian recent achievements in Spaces, Economy growing and defense and NASA or G20 countries Space programs may join India's ISRO to develop together for Moon mission of other countries.
Why Xi Jinping and Putin should Follow and not be able to follow the G20?
Xi Jinping is set to skip the G20Summit In India, China's top politician Li Qiang may attend India's first G20 meeting where the global eyes on the event to meet with leaders like Putin, Xi Jinping, Macron, Joe Biden, Fumio Kishida, Mohammed bin Salman, Erdoğan and PM Modi to raise the questions about dynamics of international diplomacy, developments, Currency, Business, Digital Currency, Blockchain and Bitcoin technology to move forward with top G2 countries. In the official phone call and chats, Xi Jinping, and Putin are skipped to attend G20. By the way, China and Russia won't ignore G20 countries because of unstable BRICS countries, But China and Russia are busy in their internal matters with each country.